SurveyJS
Open-Source JavaScript Survey Library
Project SurveyJS also offers a visual survey editor and a service for data storage and analysis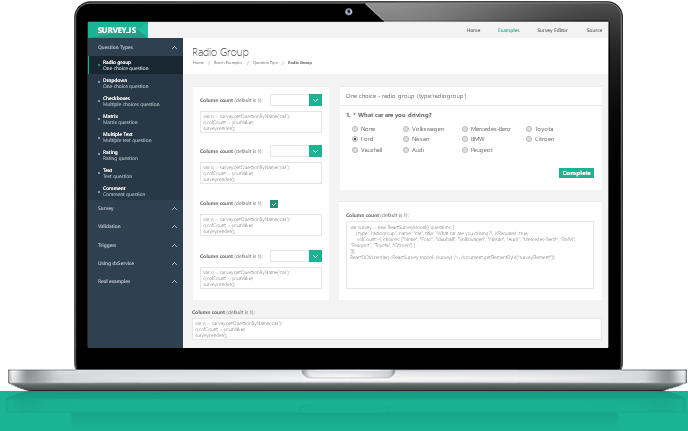 Surveys for the Modern Web, Free Under the MIT License
Welcome to SurveyJS Library – a developer tool for the modern web.
We believe in surveys as embedded solutions – those that keep your visitor engaged right on your webpage,
share the same Bootstrap themes, and can even use your custom widgets inside questions.
Those are the capabilities make SurveyJS Library a superior survey solution.
Scroll down to review interactive examples, seamlessly integrated into the webpage.
Many Web Development Platforms, Simple Integration
SurveyJS Library integrates with several popular JavaScript Frameworks: AngularJS, jQuery, Knockout, React, and Vue.js
and we made sure to document the integration well.
The Getting Started section and the rest of Examples all feature tabs letting you switch to your preferred framework.
You can open samples in Plunker to try out live survey questions and see how code changes affect behavior. We even
published GitHub repos with boilerplate projects that will jumpstart your Angular, React and Vue.js development.