SurveyJS Creator
Online survey creator and form builder
Add feature-rich and customizable online Survey and Form builder into YOUR Web Application.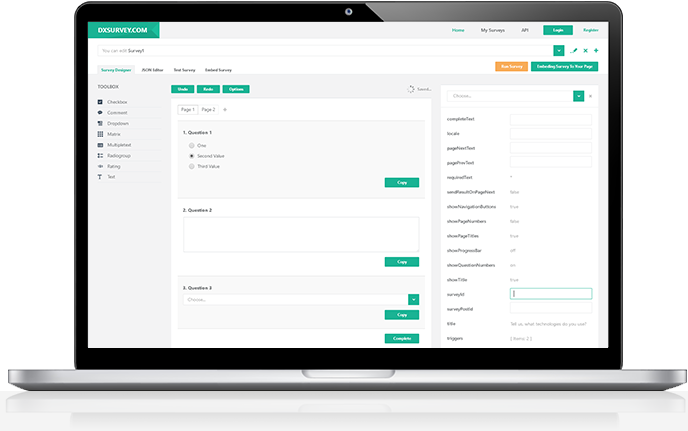 Survey Creator/Form Builder
that fully suites your needs
If you need to run only one-two simple surveys on your web site(s), you may use our free available Builder. You may build survey JSON definition without registration or by using our Survey Service and then use the JSON in your app.
However, if there is a need to build many surveys / forms for your internet/intranet applications, then we would suggest creating your own Survey/Form Service. You will be able to customize the Survey Creator / Form Builder to make sure it fully suites your business needs. You may store Surveys definitions and/or Results in your own database, or optionally by using our Service.
Please visit our Service Examples page to get examples for different server platforms.
See Online Survey Creator / Form Builder in action
Load and Save Editing Survey
You may get/set survey JSON definition at any moment by accessing the text property and save the JSON defintion in your service/database on saveSurveyFunc callback.
See the example
Show/hide Creator tabs
You may show or hide Creator tabs, buttons and Property Grid.
See the example
Toolbox customization
You are able to add/remove/modify elements in the toolbox panel.
See the example
Add/remove/hide elements properties
You may want to add a new properties into some elements, and/or remove/hide others. You will be able to do it by writting couple lines of code. Examples on adding new properties and on removing/hide properties
Modify the Question Editor
Add new properties, remove others or change their order in any Question Editor.
See the example